Board of Directors
As a volunteer organization, WKREDA is governed by a 12-member Board of Directors who meets quarterly to coordinate the activities of the alliance. Each board member is elected to serve three-year terms, but is limited to two consecutive terms. One-half of the Board's members represent northwest Kansas and the other half represents southwest Kansas. (see map)
---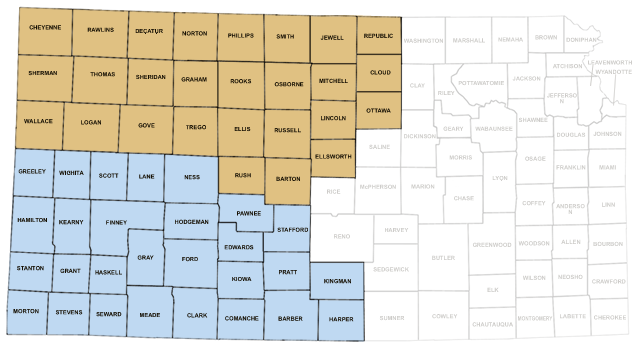 The current officers and board members are:  
(SW) Eli Svaty, 2023 President
(NW) Sarah LaRosh, Vice President
(NW) Kara Jecha, Secretary
(-) Nikki Pfannenstiel, Treasurer
(SW) Bob Dale, Member
(SW) Clay Kuhns, Member
(NW) Courtney Swanson, Member
(NW) James Wright, Past 2022 President
(SW) Jan Leonard, Member
(NW) Kelly Gourley, Member
(NW) Mike Parsons, Member
(SW) Mollea Wainscott, Member
(SW) Shelly Hansel, Member
The wKREDA Board of Directors is always interested in hearing input from the membership that will further the causes of the organization and the economic well-being of western Kansas. If you have an idea, they want to hear it! Send an email to: Board of Directors.