Sunflower Electric Power Corporation
P.O. Box 1020 • Hays, KS 67601
United States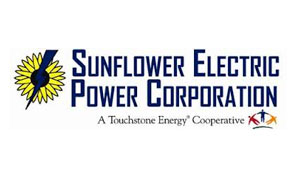 At Sunflower Electric Power Corporation, we are proud to say we don't focus on energy. Our focus is on our members, who deliver electricity every day to thousands of Kansans at the end of the line.
---
Sunflower was formed in 1957 by six distribution cooperatives serving in western Kansas. They created a company based on the cooperative business model that could provide wholesale generation and transmission services. They could have chosen other business models, but they didn't. As distribution cooperatives, they understood the importance of the 7 cooperative principles, of being member-owned and governed…of creating a company that focuses not on profit but on the best interest of Kansans and their way of life.
Sunflower's reputation is a result of more than 60 years of strong leadership, vision and innovation. Sunflower's democratically elected board of directors represents each member cooperative. Decisions by the Sunflower Board protect and enhance the ability to provide Sunflower's members with reliable electricity at the lowest possible cost. It means weighing opportunity and risk, innovation and tradition.
Sunflower's system assets—along with our organizational culture that values technical competency, respect and dignity, accountability, integrity, trustworthiness, and servant leadership—help ensure that we will continue to meet our member-owners' energy needs now and in the future.
We at Sunflower recognize that electricity is integral to families' personal comfort and convenience, sustainability of businesses and communities, and economic growth throughout the region. That is why we take pride in our role in delivering not just energy to our members…but energy done right.
About Cooperatives: America's centerpiece is home to many rural electric cooperatives. What makes cooperatives different is their dedication to service before profit, a model that continues to thrive in rural Kansas. Sunflower Electric Power Corporation is owned and governed by six member distribution cooperatives: Lane-Scott Electric Cooperative, Pioneer Electric Cooperative, Prairie Land Electric Cooperative, The Victory Electric Cooperative, Western Cooperative Electric, and Wheatland Electric Cooperative. Southern Pioneer Electric Company is also a member of Sunflower. The seven distribution utilities serve members in 58 of the 105 central and western Kansas counties. Sunflower Electric Economic Development is a collaborative initiative between Sunflower and its members. The cooperative you will be working with depends on the area of Kansas that is of interest to you. Contact us and we will get you connected to the right cooperative based on your needs.