Phillips County Economic Development
205 F Street. Ste 165 • PO Box 604 • Phillipsburg, KS 67661
United States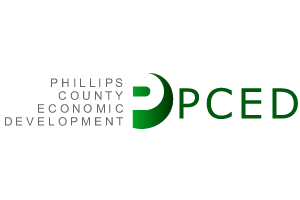 Phillips County is a small, rural community located in northern Kansas. Defined by small town hospitality and a strong entrepreneurial spirit, the folks in Phillips County have joined together to make their community the best possible place to live or start a business. With a "can-do" attitude and active approach to solving community problems, local businesses and organizations come together to do things like renovate a community movie theatre, construct play areas and build a new daycare center, something volunteers are in the process of completing.
---
This entrepreneurial spirit became even more evident when a large employer shut down several years ago. Within 24 months, 27 new businesses launched, proving that you can succeed as a new business owner in Phillips County. Since then, many more businesses have joined this strong community of entrepreneurs, many with the assistance of Phillips County Economic Development.
Phillips County Economic Development
According to Executive Director, Nick Poels, "Everyone is treated fairly and receives the same level of attention and help, regardless of if they are a student looking to return home after college or someone looking to relocate a company. We do a good job listening to the needs of those in the community and figuring out ways to help." This is why the organization exists – to help businesses and individuals in Phillips County because ultimately, economic development is about community building.
Phillips County Economic Development is available to assist anyone who walks through their doors. Some of the ways they do so is by identifying ways to address immediate business challenges, offering training at no or little cost, strategic planning, succession planning and buyer-matching, and the recruitment and retention of youth. Human capital is critical for business and county growth, so they have fostered this by paying for summer interns and by promoting a "rural by choice" mentality. Young people are beginning to realize that, with Phillips County having fast broadband access, they can enjoy the rural lifestyle and work in a place they enjoy.
Fast Facts About Phillips County
Convenient Location
Phillips County is centrally located on HWY 183, the shortest trucking route between I-80 and I-70. Additionally, the local Kyle railroad connects with Burlington Northern and Union Pacific, making it easy to move goods throughout the country. An updated municipal airport offers another convenient way to travel to and from this beautiful rural location.
Incentives Are Available
Through Phillips County Economic Development, the county, and state, a variety of incentives and loan programs are available for businesses, community organizations, and individuals to take advantage of. They include a grant for up to $10,000 that can be used on a community project. The City of Phillipsburg recently used this program to purchase speakers that play the local radio station while shoppers enjoy the downtown area, making it even more fun to spend time in this iconic city.
Low interest rate loans are also available to businesses, as are microloans that can be used to solve immediate cash-flow problems, buy inventory, or push a business forward. To further encourage entrepreneurial success, Phillips County Economic Development offers to pay for up to half the cost of trade-show attendance, for local businesses looking to grow.
These are only a few of the incentives being utilized by local start-ups and established businesses alike.
High Quality of Life
Those living in Phillips County enjoy a high quality of life with an excellent school system that ranks high in academics and sports, entertainment options including two golf courses, a movie theater and a federal wildlife reserve and refuge, small town hospitality, and low real estate costs. The healthcare system is currently being updated, providing further benefits for families and retirees moving to the area.
Local events are plentiful and include Kansas' Biggest Rodeo, Art Festivals, the Riverless Festival with parades and a car show, and much more.
Enjoying Phillips County
For a high quality of life, move your business and family to Phillips County. You can enjoy the good life for a fraction of the cost by moving out of the city to somewhere rural. With high levels of support from Phillips County Economic Development, you can be confident that, if you are an entrepreneur, you will have the help you require to make your businesses as successful as possible.