Main Street Kansas: Haunted hotel in Wilson attracts business from thrill seekers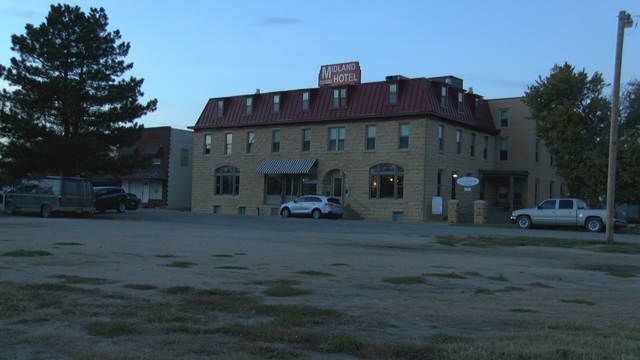 This story originally appeared on KSN, reported by Stephanie Bergmann on October 25, 2018.
It's a hotel with a reputation, first, as a popular train stop in the 1890's.
Then, for the movie, "Paper Moon," which shot several scenes here in 1973.
Even the hotel's food has a following!
"This was known for having the largest steak around. You got it free if you ate it all," said Melinda Merrill, owner of the Midland Railroad Hotel.
Midland Railroad Hotel in Wilson
But the hotel's darker side that may get the most attention.
"Actually, as soon as I bought it, which was four years ago, the stories started coming out," said Merrill.
Stories of an orphaned girl haunting the third floor.
"We've heard her a lot," said Merrill. "We hear her running down the hallway on the third floor sometimes, or if she's really playful, she'll knock on somebody's door."
"She jumps up and down on beds," said employee, Courtney Dowling. "They've seen little footprints."
Even a ghost-hunting team out of Wichita, Everyday-Legacy Paranormal, believes they've recorded sounds of the little girl.
Also on the third floor is the room where Sheriff Bart is said to have been lynched long ago. It's the only room where the hotel's master key doesn't always work.
But staff at the Midland believes it's more mischief than menacing-- ghosts that stomp around, slam doors that should be locked, turn a vacuum off and on repeatedly, and other harmless pranks!
"We were standing in the kitchen one day, and we had the spray bottles that hang on the edge of the sink, and it flew like 7 feet!" said Dowling. "We looked at each other like, 'Did you see that?' 'Did you see that?' 'I saw that!'"
So many strange happenings that even skeptics can't ignore!
"There's not an employee one who hasn't seen or felt something," said Dowling. "I believe anything's possible. You can definitely feel a presence when you enter the hotel."
But instead of scaring guests away, the owner believes the ghost stories attract more business, especially thrill seekers hoping for a spooky encounter themselves!